The Shared Platform for Upright Open MRI Research is a full-service facility for translational MRI research.
We welcome researchers new to or experienced with MRI. Our team of experts are here to support clinician-researchers and other researchers new to MRI to enable them to undertake research with this unique scanner. Each year we select a limited number of new studies to receive full support for obtaining pilot data for grant applications; please contact us for more information.
Our services include:
Study design
MRI positioning & building custom positioning rigs
MRI protocol development
Technical development and custom pulse sequences
MRI scanning
Image segmentation and quantitative image analysis
Support for tri-council funding applications.
The primary use of the Upright Open MRI is for academic health research, however researchers in other fields, including industry and government, are welcome to request services.
We are one of four research MRI facilities, each offering complementary scanning capabilities, that form the Vancouver MRI research hub.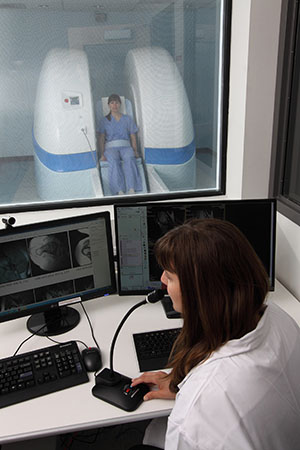 WHAT MAKES THE UPRIGHT OPEN MRI UNIQUE?
We are able to image bone and soft tissue function in activity (e.g. weight-bearing postures) rather than in supine position (lying down).  This is an advantage for investigations related to: 
conditions experienced only (or primarily) in upright postures. 
understanding normal and disrupted function in tissues and organs that function primarily in upright postures.
Our scanner's stand-up, walk-in design allows people to be scanned:
in a variety of positions including standing, sitting, squatting, and lying down
through a range of motion
in weight-bearing postures
in positions relevant to physiological function